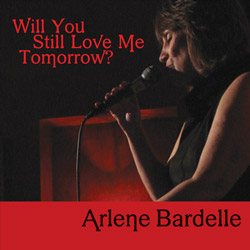 Recordings
Will You Still Love Me Tomorrow?
CD
ORDER YOUR COPY TODAY!
Also Available from:
Amazon.com
,
CD Baby
, and
iTunes
.
Track Listing
1. If I Were A Bell
2. I Ain't Got Nothin' But The Blues
3. I'll Take Romance
4. Blame It On My Youth
5. When Your Lover Has Gone
6. Isn't It A Pity
7. I Just Found Out About Love
8. Will You Still Love Me Tomorrow?
9. The Best Things In Life Are Free
10. The Music That Makes Me Dance
11. Don't Ever Leave Me
Reviews
"This is a debut CD for Chicago singer, Bardelle, who impresses from several standpoints. First and foremost, she takes on a lyric with respect, never adding unnecessary flourishes. She also chooses great material, much of which is not often performed. An impressive initial effort all around."
- Portland Jazz Society
"Arlene Bardelle has a sexy, sultry voice which is highlighted especially on 'Blame It On My Youth' and 'Don't Ever Leave Me'."
- Keizo Takada, Record Collector's Magazine in Japan
CD Liner Notes
As you can guess from the title, Arlene Bardelle's first album concerns love. All these songs have helped define the Great American Songbook by celebrating and glorifying (and occasionally mourning) love in its multiplicity of moods.
But I think that her message finds its truest vessel in "I'll Take Romance," written in 1937 by the lesser-known composer Ben Oakland and the legendary wordsmith Oscar Hammerstein II. The melody is bright and chipper, like Bardelle's voice; the lyrics eager and fresh, like her phrasing. The song's components mesh without effort, and her rhythm and timing follow suit.
And with each beautifully centered note, Bardelle offers more than her admirable musical intonation. There's also a perfection of emotional pitch, with each phrase tilted at the best angle to tell her story. Bardelle has lived with these songs for decades – she's no ingenue – and she has lived through these songs as well; her infusion of the heart's knowledge is as important as ear training and vocal craft to her art.
When Bardelle sings, she doesn't improvise on the theme, or leap around what once was the melody. She makes these songs jazz by simply swinging – coolly, impeccably, from the heels, placing her in a long proud tradition exemplified by June Christy and Rosemary Clooney. She doesn't scat; she doesn't need to. For that, she can rely on a bevy of ace Chicago improvisers, led by her longtime collaborator Tom Muellner, who reveal their respect by their eagerness to accompany her, on this recording and throughout the city, year in and year out.
She doesn't re-arrange the chords or the meter or the structure of these songs to make them seem new; she just gets out of their way to let them flow. This takes control and maturity, and the good sense to remove one's ego from the equation – to let the song and its creators speak through the singer. But that's so much harder than you'd think it would be (which helps explain why relatively few singers have found success with this approach). And Bardelle makes it sound so much easier than it is.
It all results in music that lasts, music that sounds right the first time you hear it and the fiftieth time you hear it. So to answer the question posed by the album title – yes. Yes, you will.

NEIL TESSER
Examiner.com